Help the environment and drink tap water. We can make a difference.
The apartment can take up to 6 guests in two bedrooms. Master bedroom with a queen size bed and a single bed and a second bedroom with 3 single beds of which two of them can be pushed together to make a king size bed. The single bed in this bedroom also works as a […]
Details
Prices start at: 267 € for 3 nights (+taxes and fees)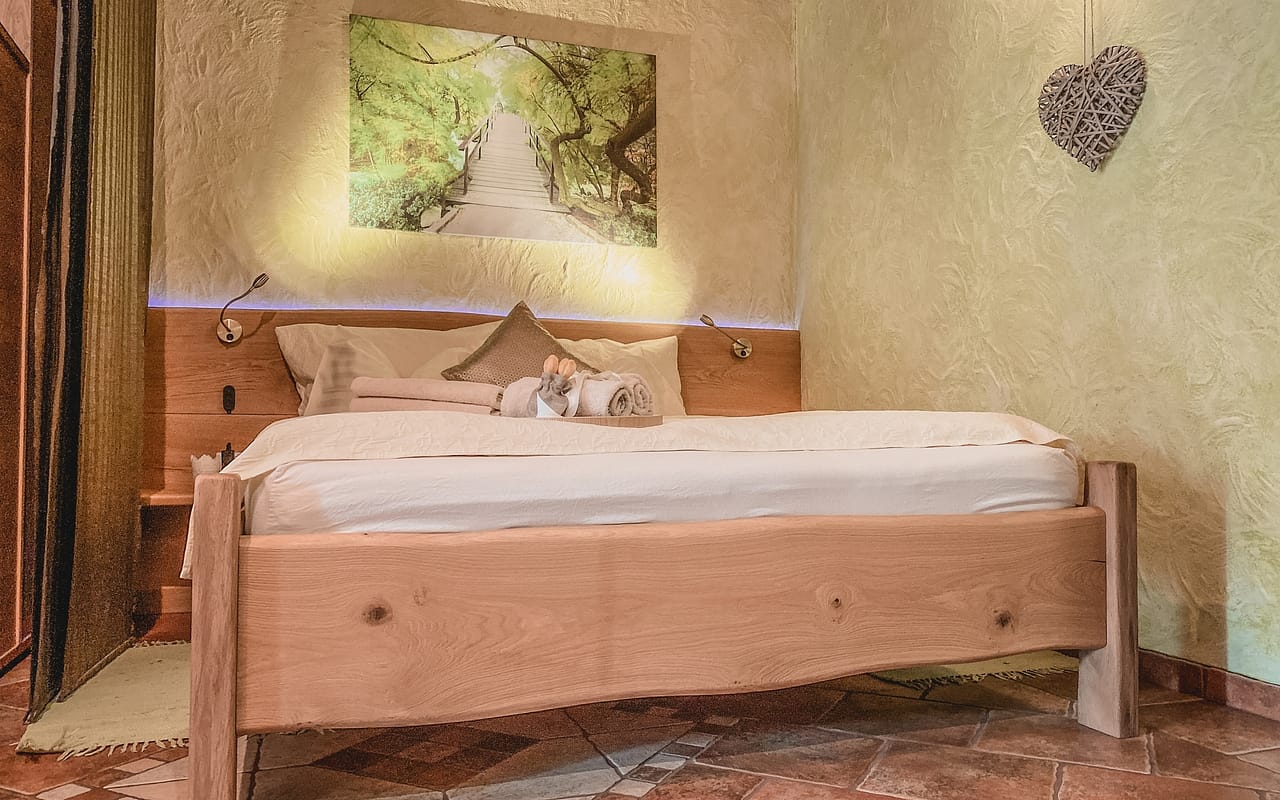 Apartment/studio/ can take up to 3 guests. There is a small kitchenette with dining area, living room with sofa bed, a bathroom, separate toilet and sauna. Bedroom and living room are divided by sliding bamboo panels. A single bed can be provided if necessary (normal mattress). Pets allowed subject to agreement. AMENITIES bathroom shower/WC sauna bed linen, […]
Details
Prices start at: 345 € for 3 nights (+taxes and fees)
"Close your eyes, fall in love, stay there." (Rumi) In a mountainous valley lies our 'Valley Retreat house' offering guests a unique experience whilst also giving them an opportunity to have a home away from their home. Focusing on the well-being of everyone who chooses to become a part of our story, we provide the […]
Details
Prices start at: 567 € for 3 nights (+taxes and fees)
Luxurious yet cosy. Experience a unique stay in a charming wooden house with driftwood accents, gold and vintage decor.
One apartment
Two bedrooms (new in 2025)
Sauna / salt therapy room / spa room
hot tub / terrace / garden / firepit / egg chairs
Experience happiness differently
Let us take you on a new journey.
What a wonderful place to stay. This is the reason I use Airbnb to find places like this. Marusa the host is excellent with communication, was able to get some breakfast essentials for us inadvance as we arrived late in the evening. The views across the valley are lovely, it's a peaceful location yet close to local towns and Lake Bohinj. The BBQ area is also a great space to eat at night. The best bit is the attention to detail. Marusa has put so much thought into making your life easy. There are a varierty of spices, oil and vinegar, foil and every baking equipment you could need. Hand soap and body wash too along with plenty of towels. She also baked brownies for us. The photos do not do it justice! This is the best apartment on Airbnb I have stayed at. Highly recommend. Slovenia is also a stunning place to visit. My top tip is to park for free in Bohinjska Bistrica and get the bus to Lake Bled. For Lake Bohinj it's much easier to find parking near the lake.
It is safe to book online with us! Get your dream stay in clicks or drop us a line with your questions.